Made for Africa Twin riders
Iceland 2022
Honda Adventure Roads has been created purely for Honda Africa Twin owners and customers to enjoy riding a new Africa Twin CRF1100L in a new environment. You'll be experiencing sights that you've never seen before. With expert HRC off-road coaching by Honda ambassadors, you'll soon discover off-road skills you never thought you had. Honda Adventure Roads is a planned 11-day adventure with premium hotels selected for you, so at the end of a hard day's riding you can relax in luxury. All food, fuel and coffee breaks are included so all you have to do is turn up and ride – join us for the ride of your life.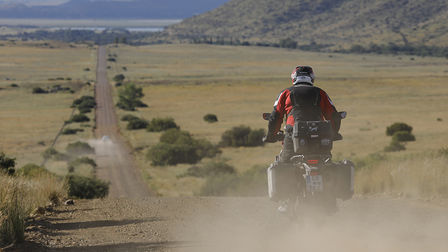 Roads to remember
The Africa Twin makes the perfect partner for the 30 riders joining us on the adventure of a lifetime.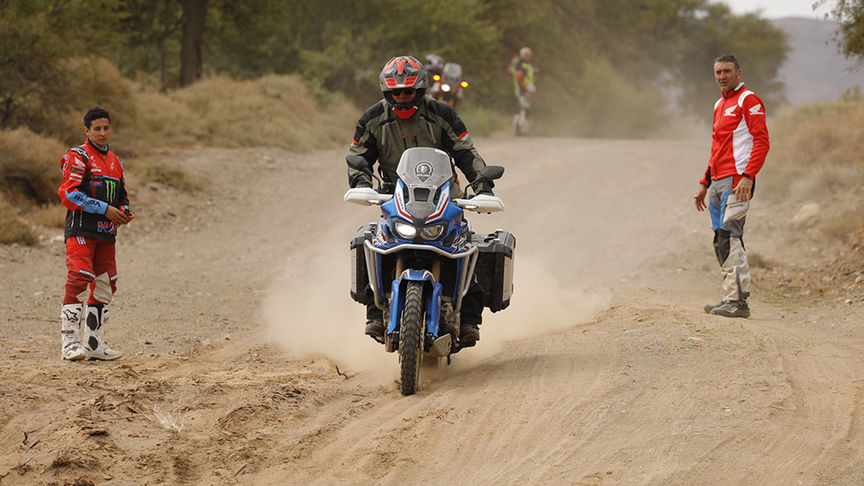 You can expect a lot more than an off-road motorcycle tour
Learn from the pros and discover another side to the Africa Twin with Honda Racing Corporation rally riders. They'll be along for the ride to share their skills and help you experience real exhilaration riding on and off road. Training starts on day one and they'll accompany the band of riders for the early part of the trip so you can explore the maximum potential of the Africa Twin.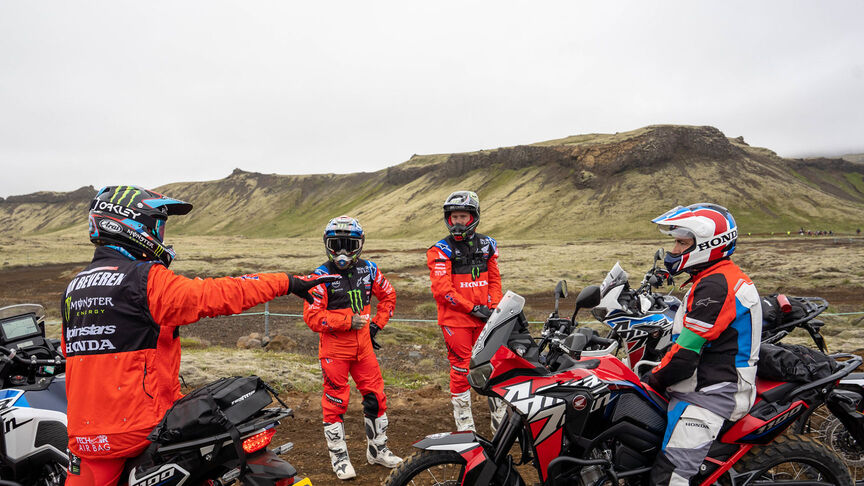 Sharing the passion
Once you've settled into your accommodation at the Hotel in Reykjavik, there'll be a full briefing session where you'll be introduced to our HRC factory riders. They're your tutors and guides, bringing all their skills and experience with them on this Icelandic adventure. They'll give you all the time you need to perfect and hone your off-road skills and show you how to set up the bike to suit you – unlocking its handling potential.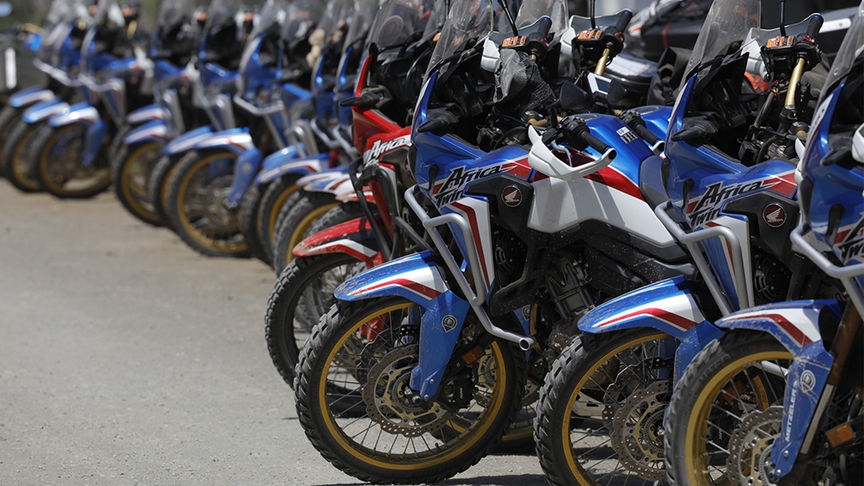 The full range of Africa Twins
A complete lineup of Africa Twins will be provided from the top of the range Adventure Sport with full electronic suspension to the standard rally inspired Africa Twin. A team of Honda technicians will accompany the group to checkpoints along the way. It's like a mobile garage, with plenty of spares and even a spare bike in the unlikely event that you'll need one.
Explore the Africa Twin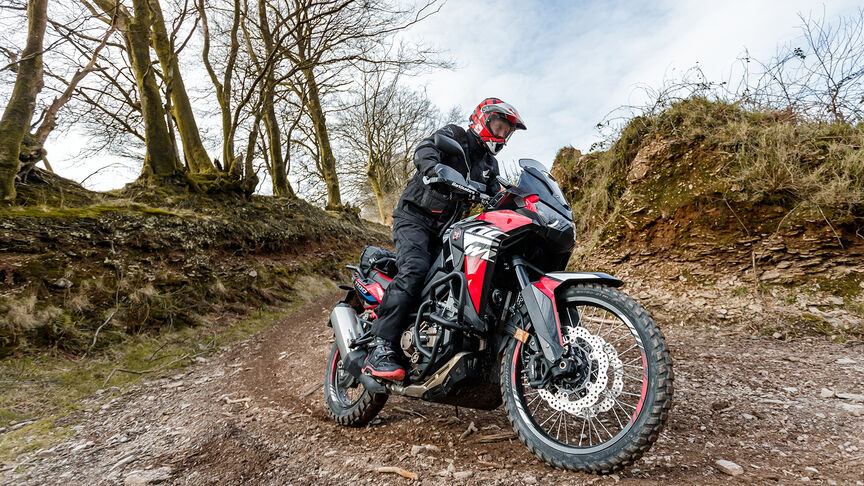 We're all connected with the Honda Adventure Roads App
Share your experiences, information and photos with your fellow riders as the kilometres roll past with the Honda Adventure Roads App. You can keep in touch throughout the trip via a chat function, links to social media, multi-language support, a map function and much, much more.
CHECKPOINTS
From day one you'll experience an adventure like no other, designed for experienced off-road riders. Difficulty rating 4/5.
---

---
Day 1: Arrival in Iceland

Guests will be picked up from the airport and transferred to the hotel, where a full briefing will take place, alongside a welcome dinner to allow everyone to get to know each other and ask any questions. It's important to know that riders' physical fitness and experience will be fully tested on this adventure.

Day 2: Your adventure begins – 94 km

The first day on bikes will be a 'training day' to get used to the terrain, test fitness and ensure riders are comfortable on the bikes before setting off into the highlands. Everyone will be accompanied by professional off-road riders who'll provide advice and guidance. At the end of the day, the Stracta Hotel is a home away from home, where warm and welcoming rooms await, with saunas and hot tubs to relax in and take in the views.

Day 3: Steady away – 140 km

The journey into the highlands will kick off on tarmac roads, but very quickly turn into the varied terrain you'll be getting to know over the next 8 days. This day takes us up and over Hekla, one of Iceland's most active volcanos, giving you a perfect bird's-eye view of the landscape below. Ending the day at the luxurious Hotel Geysir, guests are able to view Geysir Strokkur from the hotel restaurant.

Day 4: Heading north – 335 km

Time to leave the tarmac for a ride over gravel roads and lava fields. Physical fitness and riding experience is important here too as riders will experience some of the most beautiful mountain passes in northern Europe while travelling between two of Iceland's largest glaciers. After a good days' hard riding, which includes approximately 200km on winding roads through hills and valleys – stopping for coffee and then lunch – we arrive at the beautiful Camp North, situated within the valley, closing the day with a BBQ under the evening sun.

Day 5: Off the beaten track – 290 km

This is where we go off piste and where we'll all get a real chance to explore the centre of Iceland, riding across dirt, sand, gravel, rocky terrain, lava fields and seeing areas that look out of this world. We'll also be travelling through challenging rivers and streams, so be sure to pack plenty of socks! The day ends at a hotel by Lake Mývatn, with a beautiful view over the lake to help you relax.

Day 6: The power of waterfalls – 150 km

This is the mid-way point and we'll be taking things a little easier with a ride on light gravel to see Dettifoss Falls; the second most powerful waterfall in Europe after the Rhine Falls. Guests will then ride to Husavik for lunch, before being given the chance to go on a private whale watching tour on a high-speed boat. After a relaxing afternoon, dinner will be by the harbour in a traditional fish restaurant.

Day 7: North to south – 270 km

This is a day when we'll really be on our own and physical fitness and riding skills will be tested once more riding up through some of the remotest roads in Iceland. The challenge begins as the route takes us from North to South along the highland pass, through twists and turns, via rivers and gravel tracks. The majority of this day is off-road, where riders will experience lush green areas and flat baron landscapes – all within a day – ending at the Highland Centre for a well-deserved rest and sauna.

Day 8: Langisjόr Lake Day – 160 km

This maybe a shorter day, but it's one where riders can let loose on packed sandy and muddy terrain. We pass Landmannalaugar, known for its natural geothermal hot springs and head along F235 to our lunch stop by Langisjόr Lake, within Vatnajökull National Park. The day will consist of small river crossings in this natural playground for Africa Twins.

Day 9: Top level challenge – 200 km

This is a big and challenging day, and one which will test even the most experienced riders. Skirting the edge of the Mýrdalsjökull Glacier, the route will take riders on a journey through fast-flowing rivers, on narrow mountain roads and rocky terrain with breath-taking views at every turn. The day ends at the relaxing Hotel Katla, a charming countryside hotel with an outside hot tub for weary travellers to relax.

Day 10: Return to Reykjavik and The Grand Finale – 215 km

The final part of the journey begins on tarmac, stopping at two iconic Icelandic waterfalls, including Seljalandfoss, where you can walk behind the thundering falls. Then we head for Reykjavik, stopping at a local restaurant by the sea, before making a slight detour to complete a final (and fun) off-road loop. Finally – and for the famous photo finish – we stop at the iconic Blue Lagoon, where guests will say bye to their Africa Twins and relax in the natural waters to help ease those aches and pains. After a short coach journey, we all arrive at a stunning hotel in Reykjavik to refresh and relax, before the final celebrations.

Day 11: Farewell Iceland

In the morning, after a hearty buffet breakfast with the memories and images of an incredible experience still fresh in your mind, you'll be transferred by coach to the airport.
Previous
Next

---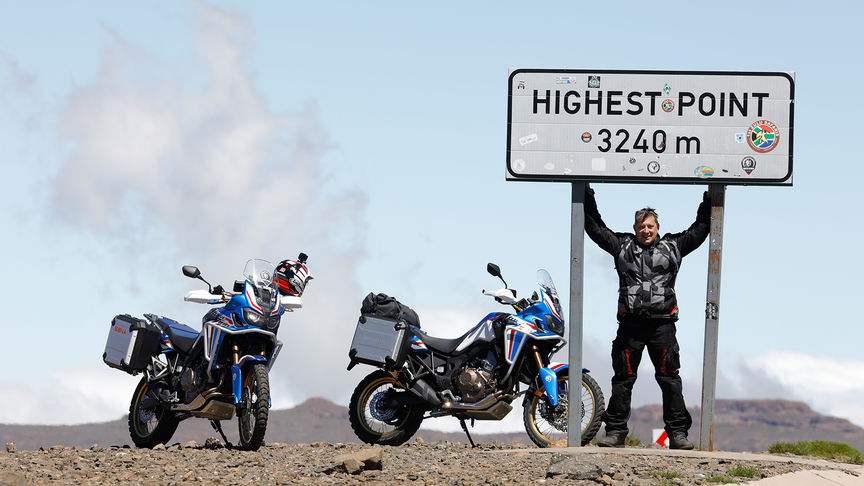 From North to South
We started by exploring the Northern-most tips of Europe and then two years later we returned to the Southern-most point of Africa. Seeing it all from behind the handlebars of an Africa Twin was a truly striking experience for all of our adventure riders and the ambassadors who rode with them.
Learn about the Africa Twin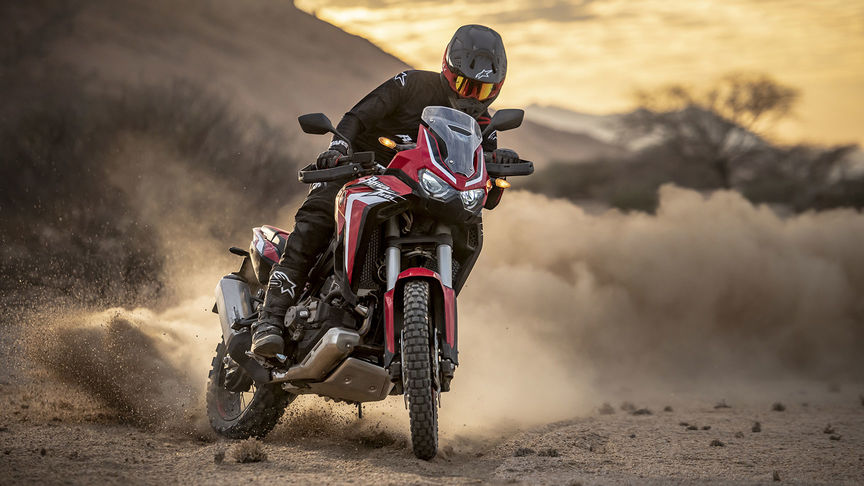 Back to our roots
Back in 2019 we took the adventure to where the Africa Twin earned its stripes – Africa. Our hardy group of riders experienced true freedom riding through landscapes that are arguably the most spectacular in the world. Meeting different people and seeing Africa's awesome wildlife every day as they rode through trails that tested their skill through desert and brush.
Discover South Africa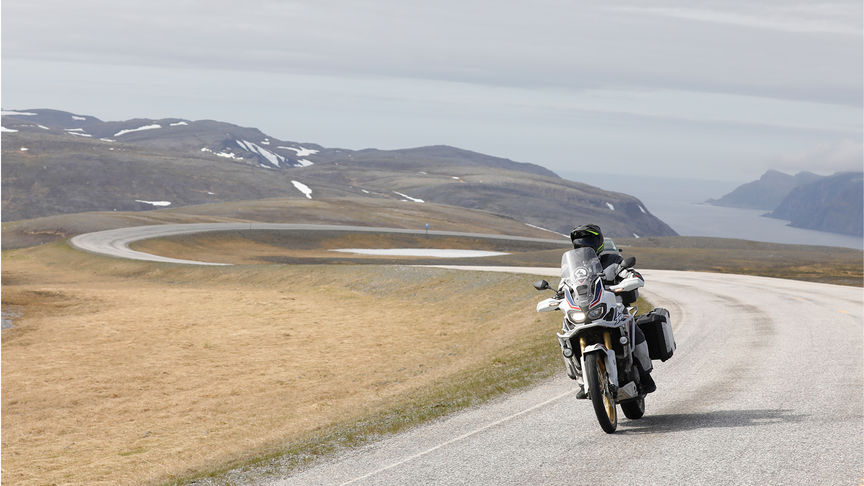 On top of the world
In 2017 we embarked on our very first tour from Oslo to Nordkapp, Norway. Our riders realised a once-in-a-lifetime experience pushing on through majestic fjords and snow-capped mountain passes. It was an exhilarating and inspiring ride.
Explore Nordkapp